The San Diego Comic Con holds a very special place in my heart. It is where I saw Sami Zayn multiple times,  Alpha Beta member Duke, met Christopher Danails (which got me in to ROH which got me in to independent wrestling which inspired me to look at wrestling things and my own thing),  someone that looked like was behind Alberto Del Rio, and where Scott Lost with Mr Exicitment caught me sleeping. Needless to say Comic Con, wrestling go together. 
Check out socaluncensored's very nice preview of this as well that talks about more stuff you can do around as well.
Finest City Wrestling is having a two big wrestling shows at the Boys and Girls Club. Ex-Interviewee for this site the and current XRT Division Champion Danny Limelight Rivera said he will be their in a Spider Man costume with said championship belt passing out flyers for the show.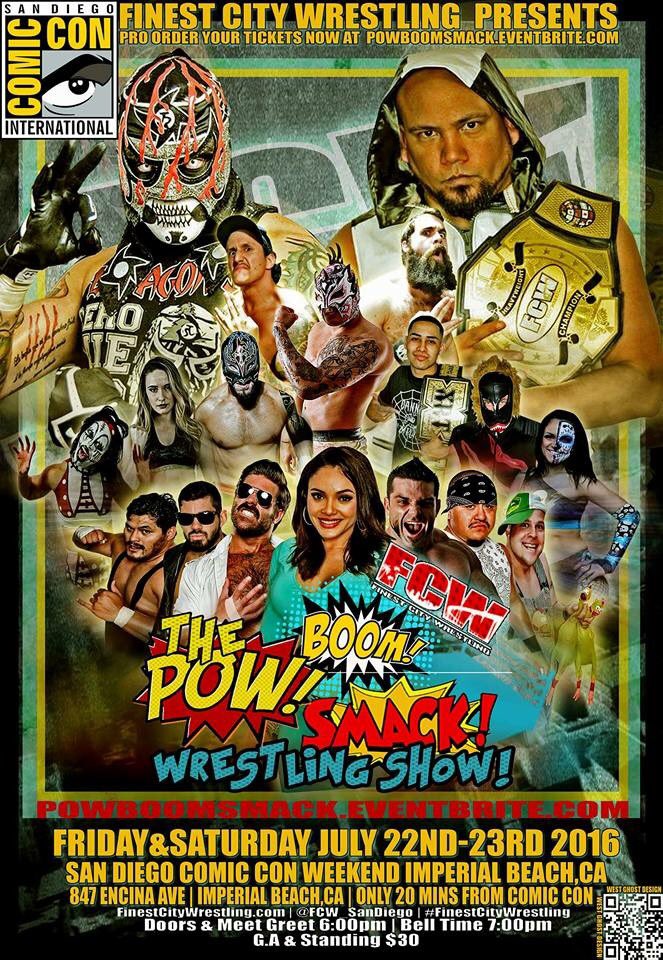 The third most over Kingston (third only to Kofi (who will their with The New Day) and Eddie) in professional wrestling will their with his Headlocked comic book.Headlocked is a wrestling comic book that details the journey of aspiring wrestler Mike Hartman. He has all kinds of guest. He also with over the past few years, he is part of a panel that details the comparisons between professional wrestling and comic books.
(Him last year talking to Inside Edge)
Dino Winwood (who is returning to comic con), Scott Lost and Mr Excitment will there be at the booth of the alley of artists.
Mattel is a cool booth also they give free toy stuff, the pepoles there are very nice. Bill Miekina (one of the main WWE action figures designers) is usually there and is also fun to talk to as well.
Virgil will be there as well